Almost a month ago, there was an international technology and start-up showcase event, which is called Echelon, at the National University of Singapore. Because of many things to do remaining after the event, I delayed making a write-up on it.
I think this year's Echelon was its second edition, and that took place on June 16 and 17. Here's a brief wrap-up.
Startup Launchpad (Part 1)

Startup Launchpad (Part 2)


[The Launchpad Winner] PlayMoolah (a web service for kids to master their money) – Singapore
---
Exhibitors' Booths…


Garbs, a Tokyo-based start-up that helps you recruit potential colleagues using their Facebook app.


Compath.me, a location-based smartphone app that allows you to find discoveries near-by that the other users have posted and you may be interested in.


Makible, a Hongkong-based start-up for making niche products.  They connect with online communities to pre-order-crowd sourced products they make and distribute.  Founded by Jonathan Buford and Nicholas Wang.

---
Panel…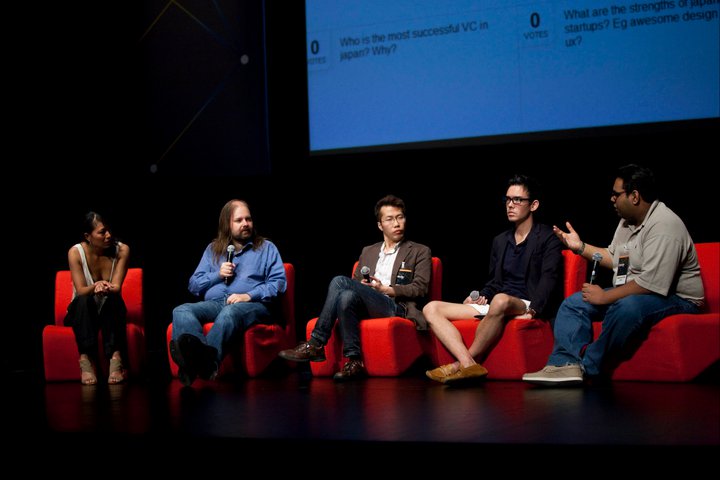 I was invited to Lisa Katayama's panel featuring Japanese tech scene, and we talked about the latest developments on the Japanese web industry.  Also I gave some words to Asian start-ups who eagerly go into Japanese market.  From left to right, Lisa Katayama (Tokyo Mango), Ian McFarland (Digital Garage), me, Jon Yonghook Cockle (CookPad) and Brian Ritchie (Mind Valley, Malaysia).  Photo courtesy: e27.

---
After the event…


Penn Olson, a Singapore-based tech blog which I've been contributing for, had a party in the central Singapore, where four Japanese start-ups including Cacoo, Fashion Style Japan, Compath.me and Moso had an opportunity to present. You can find videos shooting it here[J].
---

Just heard Asiajin co-founder Akky is planning to stay in Singapore for several weeks next month. If you're interested in meeting him and making friendship, I recommend you to drop him a line.
The following two tabs change content below.
Latest posts by Masaru IKEDA (see all)