Senkei Newspaper and 10 web services are running the Net Buzzword Contest 2011.
The 10 web services joined and asked for their readers to vote are Biglobe, Goo, Ameba, Mobage, Nico Nico Douga, @Peps!&Chip!!, Gadget Tsuushin, JustGiving Japan, iza and Jinriki-kensaku Hatena.
Let's see the 12 nominated buzzwords.
Manbe-kun
Manbe-kun is one of thousands yurukyara (=loose character) made by Japanese local governments Oshamanbe in Hokkaido to promote its regional culture, food and products.


He was known by its unconventional, funky tweets as an local government character, which usually make boring messages. However, when a person behind the Twitter account, someone in the PR company worked for the town started making political, WWII related tweets, it caused severe backlash and the town shut down the Twitter.
Sukasuka Osechi
"Sukasuka" is a Japanese onomatope which describes how things are spacious, spongy. It was the first buzzed news on Japanese web in 2011. Groupon Japan selling very poor traditional new year food set resulted in its US CEO's apology.

Popopopo-n
3/11, Eastern Japan Disasters with earthquakes, tsunami and nuclear power plant problems of course affected Japanese web a lot.
Most of companies wanted to stop its TV commercials for weeks after the quake in a mood of voluntary restraint of commercial activities, non-commercial organization's enlightening videos were aired endlessly. The one annoyed people the most is this,
http://www.youtube.com/watch?v=l53kgSYL1fU
and it let many web users to create derived creatives.
Boku to Keiyaku Shite *** ni Natte yo!
A line in a Japanese magic girls anime means "Please contract with me and you will be a magic girl!" caught many anime watchers heart this year. The line told by a small animal whose name is QB comes from magic world were used a lot on the web by changing "magic girl" with many other words.
http://www.youtube.com/watch?v=cYxvrnUIZn8


QB cosplay in Akihabara
[Update] really good article explains this with long history of Japanese magic girls.
Nadeshiko Japan
National team of women soccer winning the FIFA World Cup 2011 was the first World Cup win by Japan national team, was of course told a lot on the web.
"Nadeshiko Japan" is an official nickname of the team. Nadeshiko is a Japanese name of a flower pink, which is often described ideal Japanese women in Japanese. (Twitter trouble with one of players only few days after the World Cup)

Buhiru
"Buhiru" is a newly coined Japanese verb which came from pig's calling sound "Buhi Buhi" so "buhiru" means "to sound like a pig". This is used when anime freaks describe themselves loving anime characters in self-deprecatory way. Japanese image for pig is dirty and greedy so it implies that they are accepting well-calculated kawaii character design even though they are aware of being looked down on by creators.
Yashima Sakusen
Yashima Sakusen (Operation Yashima) is an web movement occurred after the big earthquake, which appealed people to save electricity under power shortage around east Japan. It came from an operation in a popular Japanese anime Evangelion.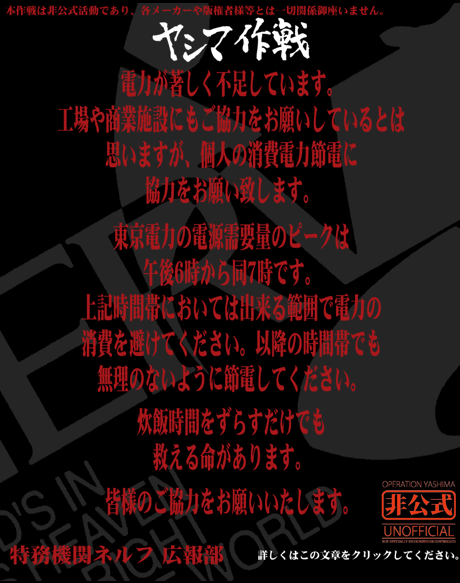 Anaroguma
Anaroguma(Analog + Kuma=bear) is an web-born anti-official character against Chidejika, which proceeded to replace new digital TV broadcast system.

#edano_nero
Another meme from the earthquake. Yukio Edano, Japanese cabinet's chief secretary at the disaster time, as a government spokesman, was worried by netizens by his too long appearance on official reporting programs. "nero" means imperative form of "to sleep" so Edano Nero means "Sleep Edano".
Asiajin » Chief Cabinet Secretary Edano Becomes Fan-made Anime
Daashieriiesu!!
Japanese train announcements sometimes have strange accent which you never heard in your regular conversation. Some people say that it is intentionally invented and spoken to transfer the information under special noisy situation like on train or in platform, though I do not believe it.
"Daashieriiesu" comes from "Doa ga Shimari masu"(doors are going to be closed) and that is said to be used in Keikyu Railway company which connects Tokyo and Yokohama/Yokosuka. The strangeness was buzzed on the web.

Maru Maru Mori Mori
"Marumo no Okite"(The rule of Marumo) is one of the most popular TV drama in 2011. This "Maru Maru Mori Mori" is a name of its main theme song and a hook-line chant. Two kids singing and dancing with the song became a smash hit, ranked the highest sales as singer who born in 21 century.
http://www.youtube.com/watch?v=ajQfEmDJMMI
Iine!
"Iine!" is a Japanese translated version of Facebook "Like!"
There is a popular annual not internet-limited buzzwords awards by Jiyu-Kokumin-sha [J], which Gakuranman translated to English. Dentsu's Hot 30 Products Ranking 2011 [J] are explained on TheNextWeb.
The following two tabs change content below.