Last week we got a couple of remarkable news about what happened to the industry that usually bring us news stories about the world on the move.


The Sankei Shimbun[J], Japan's 7th largest newspaper in the number of its circulation, set up a new page specifically focusing on Internet services and web industry trends as the first case of Japanese major newspapers.   The page is inserted on every Thursday's morning edition and is expected to be accompanied with several ads by web2.0 companies.
In commemoration of the new page launch on the paper's July 30th issue, Japanese popular video sharing site Nico Nico Douga's live channel[J] program guide was placed in the middle of terrestrial TV timetables.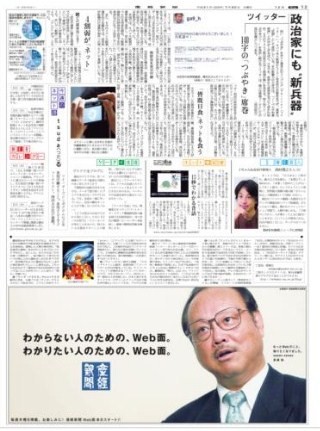 The edition features an Internet slang "Tsuda-ru" (refer to this), blogs under the Enjoh and officially permitted reproduction case of Cyborg 009 drawings uploaded on illustration SNS Pixiv[J] (read stories associated with Pixiv).


Meanwhile, the Asahi Shimbun, Japan's 2nd largest newspaper in the number of its circulation, launched a mobile SNS called "Sanko People[J]", and  it was publicized to the first 1,000 beta users.   Asahi developed the service in association with open source SNS program developer Tejima-ya[J] and Tokyo-based web entertainment service developer Geisha Tokyo Entertainent (GTE)[J] (See these stories for more about GTE).    The users are allowed to interact with GTE's chatterbot on the service.


The service targets young people subscribing to no newspaper, and provides them with knowledge sharing opportunities by enabling comment postings and social bookmarking on developing news stories.   Asahi runs the service on ad-revenue basis and expects to engage 1 million users and to mark annual sales of USD 2.2 million in three years.
Both of the services introduced above are not a direct approach to gaining the numbers of subscribers and revenue for news paper industry.   They're writhing themselves to find ways to survive, and forced to do further more from now on.
Via IT Media News[J] and Mycomi Journal[J]
The following two tabs change content below.
Latest posts by Masaru IKEDA (see all)