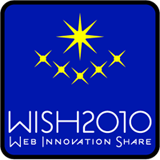 More than 400 Internet users joined the event on Friday evening in Tokyo.   Tokyo-based blog marketing agency Agile Media Network (AMN)[J] held Japan's first conference having a number of tech start-ups in comprehensive perspective, titled WISH2009 (Web Innovation SHare)[J].   More than a dozen of innovators had opportunities to present their works, and Japanese tech media journalists and GREE's CEO Yoshikazu Tanaka(@tanakayoshikazu) were invited to serve as award judges.
Here are wrap-ups of the event and award winning results.   Each presentation is almost five-minute long and given in Japanese language.
Award winning presenters:
Company / Service / Desc.
Video (Presented by AMN)
Grand Prix Winner & AMN Award Winner:



Akky Akimoto wrote this in-depth story about the service here on Asiajin.


Presentation by CEO Yoski Akamatsu[J] (@yoski)

Nikkei BP Award Winner:

Dressphile Online Closet[J]
For city dwellers having no affordable space at home to keep unseasonable clothes, you may ask Dressphile on the web to pick up unnecessary pieces and to keep each piece of them in the company's storage for an approximate monthly cost of USD3.

Presentation by CEO Hiroshi Nishi[J]

Impress Award Winner:

Cerevo[J]
Cerevo provides a double-sided solution for people wanting to send and share pictures online by not only developing a new photo management site but also manufacturing an originally-designed digital camera.


Presentation by Takuma Iwasa[J]

IT Media Award Winner:


Hiroumi Mitani wrote this in-depth story about the service here on Asiajin.


Presentation by Youyou Ki

CNET Japan Award Winner:


Gen Taguchi is well-known since he introduces the world's innovative web services every day on his website.   He is also a system engineer and developed an easy-to-use web-based "to-do" management system requiring no user account registration.



Presentation by Gen Taguchi
a.k.a. 100shiki.com

Gizmodo Japan Award Winner:

A team of 10 laboratories of Keio University SFC jointly developed a number of digitized contents and media derived from our daily utilities, and also invented a platform allowing them to develop ubiquitous products in a more efficient way. (E/J intro PDF to the project)


Presentation by Yuichiro Katsumoto[E/J]


Other participating presenters:
Company / Service / Desc.
Video (Presented by AMN)

Kokuban.in is an illustration-sharing SNS allowing you to draw a picture on the virtual blackboard with your mouse.


Presentation by Yoshinori Munehara

30min. (pronounced as "San-Zero Minutes" in Japanese) develops a location based town guide portal and allows users to see a listing of shops located near where you are, based on the database of information aggregated from blogs that people write.   Its iPhone app is available from here.


Presentation by Motoaki Tanigo[J] (@tanigox)

User Local[J] (led by Masao Ito[J], he founded Japan's most popular bulletin board site for job hunting students[J], and handed it over to Japan's e-commerce giant Rakuten. He got a degree from Waseda University Graduate School)   This tech start-up incubated from Waseda University developed several services focusing on web access statistics and analysis. (Read other Asiajin stories tagged with this company)

Wataru Yamaki wrote this in-depth story about the company here on Asiajin.



Presentation by Masao Ito (@itomasa)

Asiajin's founder Akky Akimoto also entried this work titled Yondayo!, which allows you to publicize a list of books you've read by posting a Twitter message and to share its review with other avid readers.


Presentation by Akky Akimoto[J] (@akky)

Sony's subsidiary in online banking service introduces a service titled "Lifetime Online Passbook", which was launched in March 2008.   It aggregates billing details of credit card transactions etc., and shows you them on a web-based calender.  Probably it will make you easier to manage your personal expense and family budget.


Presentation by Toru Kawarazaka and his colleague Mr. Shimohara

The world-class motor company introduces an RSS-enabled car navigation system allowing driving users to collect information from third party's websites such as expressway info portal (kosoku.jp[J]), station-by-station basis gas price comparison site (gogo.gs[J]).


Presenter's name unconfirmed

The company provides consultation services in CRM(customer relationship management) and SFA(salesforce automation) business segments, specifically by focusing on delivering solutions to arrange information collected by business cards being exchanged among Japanese businessmen everyday.  (Read other Asiajin stories tagged with this company)


Presentation by Naotake Hibiya (@naotake_hibiya)

A Shibuya-based tech start-up and iPhone/iPod touch app developer has introduced its brand new line-up following Samurai Chess, Melody Bell and Tapnext.  The company unveiled a new service providing an iPhone app content distribution platform on ASP basis, acting for iPhone app content providers.   With the service, the content providers need not to set up a content server to start subscription-based content distribution service requiring in-app payment transactions.


Presentation by Kentaro Hashimoto (@conit)
The following two tabs change content below.
Latest posts by Masaru IKEDA (see all)