Rakuten, one of Japan's e-commerce giants, announced it would start a service enlightening voters on political participation in late July. The website accepts credit cards to donate your money to politicians whom you support. In the previous U.S. presidential election last year, Barack Obama carried a large amount of money from individual fundraisers on the Internet, but when we turn our eyes to Japanese community, credit card companies assume a conservative attitude towards starting online fundraising due to the difficulty to identify fundraisers on the Internet. In order to clear this issue out, the website uses an online identification system provided by the company's subsidiary majoring in credit card transaction.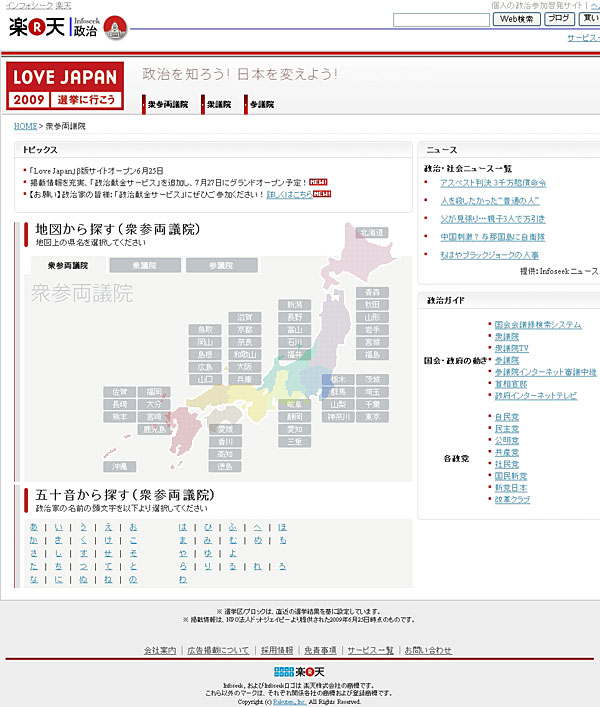 The website shows you a list of acting diet members approved by their political parties to accept fundraising, you will be able to find a button on their profile pages and be allowed to donate by clicking it. The acceptable amount of fundraising money will be set within the range between JPY1,000 (USD10.50) and JPY1.5M (USD15,800). If you wish to donate, you'll be required to enter your name, address, occupation, credit card number and the amount to donate. In order to check out your identification for satisfying with the requirement defined by the political party subsidies act, unless your entries aren't successfully matched with Rakuten's personal information database record, your money will not be transferred to the politician's fund management organization.
Yahoo Japan[J] also has a website for appealing political participation to young people, which was launched in association with a political internship NPO called Dot JP[J], and each politician's profile page on Yahoo's website will have a link to Rakuten's political fundraising website despite these two are competing each other in earning website pageview.
Via IT Media[J]
The following two tabs change content below.
Latest posts by Masaru IKEDA (see all)