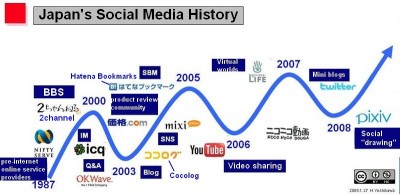 This rough overview shows how the social media landscape evolved in Japan from 1987 till today. Hideyuki Yoshikawa is the man behind this.
The original blog post can be found here [JP].
In the past, Asiajin covered Kakaku.com, 2channel, Hatena, Nico Nico Douga, Mixi, Twitter (Japan) and Pixiv.
The following two tabs change content below.
Latest posts by Serkan Toto (see all)