A massive earthquake attacked the north-eastern part of Japan on Friday afternoon.   Many JSDF troops, fire fighters and foreign rescue workers have been deployed in devastated areas, their physical rescue operations are underway.   Internet users across the country are thinking about what to do to help disaster victims and survive this difficult time.
Here are some of grassroots movements.  (More updates will be coming up)

Yashima Sakusen (Operation Yashima) [J]: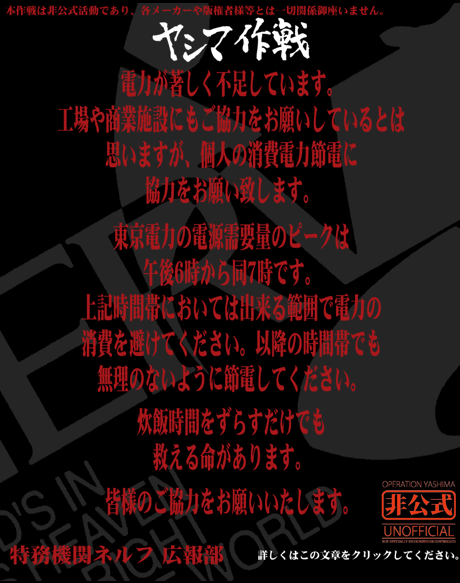 An anonymous fan of Japanese popular animation titles Evangelion launched it named after an elaborate plan in the film, which intends to appeal to save power consumption.  Electricity supplies will be insufficient in the Tokyo Metropolitan Area and the Tohoku Region (north-eastern part of Honshu Island, Japan) because of heavy damage to power plants and grids.

Setsuden Poster (Posters calling for power saving) [J]:


Someone set up a Tumbler page, and it shows us a number of posters which have been submitted by pro- and amateur designers who have agreed to the act.   Any of these posters can be printed at multi-functional photocopiers at Seven Eleven convenience stores nationwide, and the organizer of the campaign is asking people to put them on walls in town.

Enterprises' Efforts and Contribution on Helping Disaster Victims [J]:


This channel of Togetter, the Japanese original version of Chirpstory (see my story for more about both services), shows you a list of tweets and links related to physical and financial aids contributed by many companies.

English Translation of Heartwarming Tweets



For disaster survivors in the region and supporters around the globe:
For safety information and latest developments on the disaster results in English, please check out #jishin_e hashtagged tweets.   If you wish to watch live coverage in English by Japan's public broadcaster NHK, visit their website or use this iPhone app.
For receiving EEW (Earthquake Early Warning; see this Akky's story for more about the system) on the iPhone, this free app called Yurekuru Call helps you survive. (Due to possible network congestion, warning signals cannot always reach you in time. You are required to set your current location on the app.)
The following two tabs change content below.
Latest posts by Masaru IKEDA (see all)