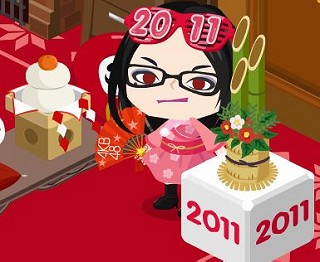 In Japan, New Year's Eve and the New Year holidays are the biggest events of the year, and it is similar in virtual worlds.
CygerAgent's virtual world "Ameba Pigg [J]" sold a lot of virtual goods on the end of the year and the beginning of the year.
The Japanese eat "Toshikoshi-soba" on New Year's Eve (soba are thin Japanese noodles made from buckwheat).


CyberAgent sold 150,000 virtual goods of this Toshikoshi-soba in Ameba Pigg. However, this doesn't translate to profit for CyberAgent because these goods were paid for with free virtual currency.
On the other hand, the profit they received from Fukubukoro sales this year is awesome!


Fukubukuro are surprise bags sold by department stores and other places in Japan (the bags are sealed, and buyers don't know what they will get). Sold at a steep discount, Japanese people love purchasing Fukubukoro on New Year.
CygerAgent started offering 2,011 limited edition virtual Fukubukuro in Ameba Pigg on New Year, filled with items for femal avatars only. However, all virtual Fukubukuro were sold out in a few hours on January 1.
The company charged 2,011 yen for each Fukubukoro, meaning it made:
2,011×2,011=4,044,121 yen (about 48,000 USD)
It looks like the profit you get from virtual Fukubukoro can be compared with real Fukubukuro.
In addition, 18 kinds of Oshogatsu (Japanese New Year)-themed virtual goods were very popular, too.


These Oshogatsu virtual goods were sold about 480,000 times between December 31, 2010 and January 3, 2011.
The most popular item of them was "Kadomatsu".


"Kadomatsu" is a traditional Japanese decoration used during the New Year. It's made from bamboo, pine, straw and plum (Japanese people used to decorate every house's entrance with a Kadomatsu).
Each virtual Kadomatsu was priced at 200 yen, and CyberAgent sold about 16,000 of them!
200×16,000=3,200,000 yen (about 38,000 USD)
These Oshogatsu items are becoming outdated in the real world. However, they are still popular in the virtual world.


According to CyberAgent, about 2.4M users logged in to Ameba Pigg between December 31 and January 3. This number is almost equal to "Hatsumode", the first Shinto shrine visit of the New Year in the real world.
Ameba Pigg has more than 5 million users currently, 65% of whom are women.

The following two tabs change content below.
Latest posts by Chiho Komoriya (see all)