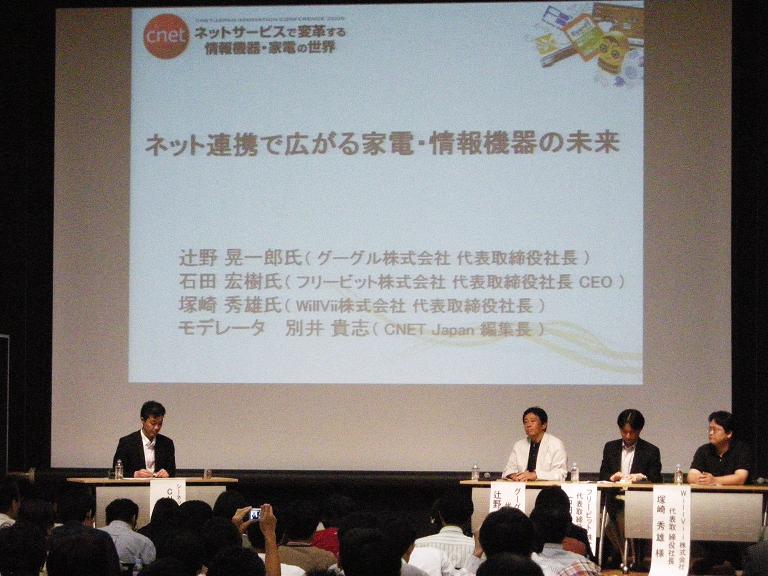 Today at Roppongi Hills, a skyscraper located in the heart of Tokyo, CNET Japan[J] held an annual tech conference called CJIC 2009 (CNET Japan Innovation Conference) where two tech-startups, Panasonic and Sony presented their new services and products to more than 350 attendees.

As the first presenter of the conference, Atsuki Ishida[J], CEO of FreeBit, a Shibuya-based venture company known for providing its network platform to many VNO/ISPs (virtual network operator/Internet service providers), introduced ServersMan which is their iPhone/iPod app recently upgraded to ver. 3.0b.   (See these articles for more details about the app.)    Its Android app is now under development.
qik Video: Atsuki Ishida's Presentation (in Japanese)

Compared to the specification of typical web servers which were being used a decade ago, iPhone has a sufficient CPU power and network bandwidth to work as a web server.   Besides, iPhone adopts Linux as an operating system.   Mr. Ishida convicted of the potentiality of iPhone as a web server.   If iPhone can be used as a server, a mount rack storing several servers would be changed as follows (five layers of iPhone devices).   It requires less electricity consumption, less waste heat and less space than a typical rack-mount server – which mean it's totally ecological.
FreeBit's basic concept in this developing project is to "server-ize" all things surrounding us.   Since ServersMan uses IPv6 address method for assigning addresses to devices, possible emerging needs of assigning many addresses will not cause the lack of IP address.

Takuma Iwasa[J], CEO of Cerevo[J], an Akihabara-based start-up and tech home appliance developer, unveiled their new concept digital camera which will be on sale in several months.   After shooting a number of pictures with the camera, you don't have to get it out from your bag for uploading pictures and sharing them with your friends.   When you come back home, that camera will automatically detect WiFi signal at your home and upload recent pictures to Cerevo's photo management website, Flickr and other social web services.
qik Video: Takuma Iwasa's Presentation (in Japanese)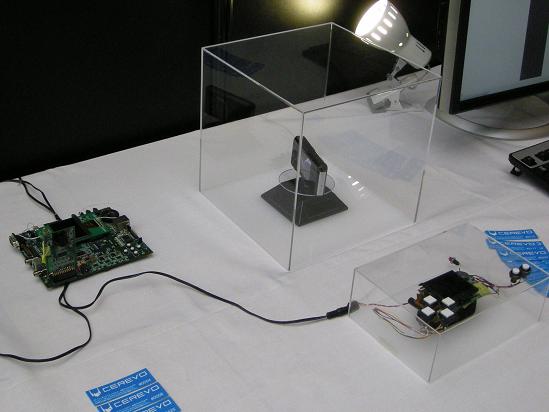 In order to prevent you from having an accident that you cannot use the camera because of dead battery, you'll be alerted by a cellphone e-mail when the camera's battery remaining breaks 10% of its capacity and encourage you to recharge it.
Today he unveiled the camera would have a USB port to accept 3G mobile data modem, which allows you to upload your pictures you take not only within WiFi coverage area but also in the most of populated area of the world.   The camera is now under manufacturing at a factory in Mainland China, and it will be available in several months at Cerevo's e-commerce shop, branches at Rakuten and Amazon Japan.   Expecting retail price will be JPY20,000 (USD210) approximately.
See Also:
Panasonic and Sony also showed us some examples of connecting their new model TVs and DVD players with useful web services.
The following two tabs change content below.
Latest posts by Masaru IKEDA (see all)