Google started Google Maps Korea on November 25th. Goole was not providing map service in Korea before. Google's presence is much lower than their presence in the US or Japanese market.
Google Maps Korea will be very helpful for overseas travellers, because they can use the service with their familiar Google Maps interface, even though the map itself is written in Korean.
We hope that many Korean startups will create mashup services using Google maps API.
*Other map services in Korea

Many Korean portals, including Yahoo! Korea [KR] or Paran [KR], are already offering map services.
Yahoo! Korea map (so called 'gugi') can overlay traffic situation on the map. you can see traffic situation in Seoul and other cities realtime. Colored lines in the map indicate traffic situation on the road.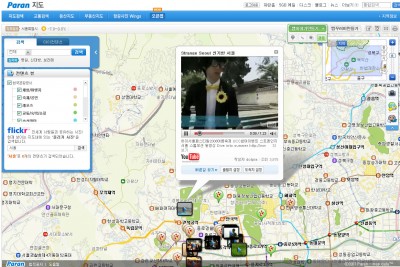 Paran is providing a map service using a system of GEOPIS which has been offered a map service in Korea. By drawing a line on the map, users can make their own map. Also, they can upload and share movies about cafe, restaurant and so on.
The following two tabs change content below.
Latest posts by Park Minchul (see all)