Yodobashi Camera [J], one of the largest electronics chain store who also runs online commerce site, started and expanding the area for "the same day, free" delivery from Tokyo and around.
On Auguest 18, they announced [J] they would deliver items within the same day if ordered by 10 a.m. to Tokyo 23-wards. They also announced that nationwide shipment fee are waived "for the time being".
Only weeks later, September 1, they added more regions for the same day delivery and the deadlines for the order are improved.


By ordering before 1 p.m., Tokyo (excludes islands), Kawasaki and Yokohama residents can receive items on the same day. By 4 a.m., Miyagi pref. and Nagoya city can enjoy it.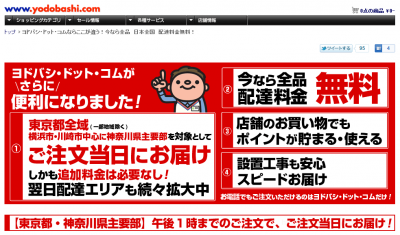 Although Yodobashi does not offer some products Amazon Japan has, for example no food & beverage, and books are limited within PC/IT related, many categories are overlapped. (full list of categories on Amazon Japan [J] and Yodobashi Camera [J])
Amazon Japan introduced the same day delivery in autumn 2009, and offer free shipping charge in competition with Rakuten. But for the same day delivery, customers need to pay extra 500 yen (US$6.5).
About free shipping, Yodobashi's both its rival Bic Camera and the top electrics chain store Yamada Denki's online mall are offering the same free delivery for a limited, but undecided period.
Online consumers expectation for delivery in urban area in Japan has been becoming higher with these competitions.
The following two tabs change content below.