It was January 14th when Domino Pizza Japan started three weeks customers-involved web campaign "Ikemen Domino 25 Contest".
The word "Ikemen" is a Japanese slang which means a good-looking man, believed to be generated about 10 years ago from "Iketeru"(cool) + "Men"(Japanese 'face' and English 'man/men'). The contest is asking visitors to vote their favorite good-looking guy from 25 Domino Pizza delivery boys.


"Vote and encourage the one, whom you think Domino Pizza will be even more delicious, if he cook and deliver to you!" was the catch.
Soon after the launch, 2-channel users found that there was a guy who seem a little bit unique, the entry No. 15,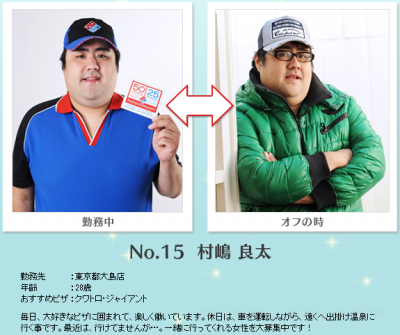 The right photo is his mufti. His favorite pizza is quatro giant.
2-channellers commented, "He must be the nicest guy.", "I feel a sense of affinity only with him.", "It is easy to imagine his eating pizza.", "I sense pizza on him.", etc.
# "Pizza"(precisely "Piza" in Japanese) is also a 2-channel jargon that describes a chubby person.
Worse thing was, the vote script did not have any protection against duplicate submission. Quickly he collected about one million votes from 2-channel supporters.


Days later, another guy, No. 11 got a million votes in one night. Then those net people started rumoring that the all campaign was set up and Domino Pizza already made a new commercial film with the No. 11 guy, though an official twitter account denied it.
Then, the official announced the cancellation of the whole contest due to "a flaw on voting system".


The similar mass voting happened in November on a popular character contest over soccer anime Inazuma Eleven [J]. Net users voted sub characters to occupy top 5. [J] The organizing anime maker had offered to make new illustrations for top 3 characters as prizes for fans. In this case, after the contest ends, the organizer announced to expand the prizes for all of the top 10 characters, including non-rigged popular characters under 6th rank, which chagrined some upvoters [J].


In 2001, 2-channellers did the same thing against Time Magazine's "Person of the Year". At online vote, a Japanese talent Masashi Tashiro was put up at the top until insiders noticed.

The face of Tashiro on the magazine cover was photoshopped by participator
The following two tabs change content below.