Nanapi [J], a web service to share hacks posted by users, had acquired 3.8 million US dollars from Globis Capital Partners in Tokyo.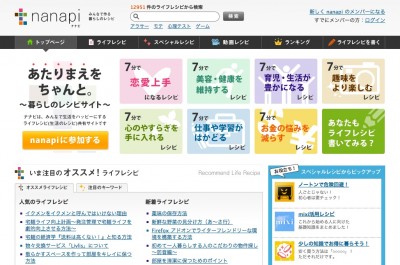 Nanapi is a service to share life hacks, called as life recipes in this service, posted by users. Users can post their own hacks easily via Nanapi works [J], and can earn points worth 100 to 10,000 Japanese yen.
It's hard to find a similar service in U.S. but has  a similar concept hunch.com has; Making a guide for living by using the power of internet users.
Nanapi is currently getting 4.5 million pageviews via PC and 5 million pageviews via mobile per month. Nanapi is aiming to gather 100 million pageviews/month by the end of 2011.
The following two tabs change content below.
Latest posts by Hiroumi Mitani (see all)