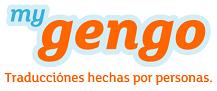 myGengo, a web-based multilingual human translation service start-up in Japan, announced convertible note fundraising of approximately 50 million yen from ten angel investors including:
Since last April when they introduced an API that allows you to enable the translation service on your website, about 10,000 translation requests a day month have been processed, myGengo's managing director Matthew Romaine says.
They plan to strengthen marketing arms using the fundraising money, and expect to raise more money through myGengo's US-based parent company.
As a result of this fundraising, the company's co-founders Robert Laing and Matthew Romaine keep a 85% stake.
Meanwhile, market research company devoted to international business operations Common Sense Advisory reported last May in their whitepaper that the market size of the world's translation outsourcing business is expected to reach USD2.5B in the year of 2010.   It used to be USD1.425B in FY2008.   There's reportedly a rapid growth in translation needs for e-commerce websites.
Correction: The number of the translation requests was incorrect.  It is not "a day" but "a month".  Sorry for your inconvenience it may cause.
Via: Human-powered translation myGengo fundraises 50 million yen (CNET Japan) [J]
See Also:
The following two tabs change content below.
Latest posts by Masaru IKEDA (see all)