Pu-pe Girl is a fast-rising Japanese social community site targeting females, currently 99% of its users are women. The
social network is for a certain speciality, having barbie-like dress-up avatar of your own. Pu-pe Girl is a 100% subsidiary of CyberAgent, one of the biggest Japanese web conglomerates.


Luckily, and exceptional for a web service managed under CyberAgent group, the service was internationalized in English from its early stage, and 35% of its 300,000 registered users are now from overseas. 13% from English speaking countries, Portuguese 7%, Spanish 6%, Chinese 4% and German 2%.
For the English menu, it seems that they changed its original spelling from "Pu-Pe Girl" to "Poupeegirl".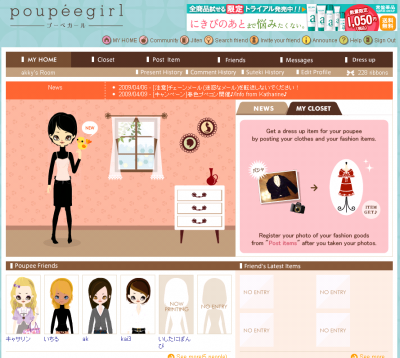 300,000 users some of which are loyal paid users only in two years since its establishment in February 2007 is pretty impressive, as their targeted sector holds not many heavy internet users.
On the site, you are supposed to decorate your avatar with a lot of given/sold apparel items and accessories.
What makes Pu-pe Girl unique and has been fascinating adult working-aged women is the method how you get new items. Pu-pe Girl asks you to work on your real clothes, shoes and jewellery. To get a random item and/or virtual points "Pu-pe Ribbon", you need to take pictures and send them to the system. The pictures seem to be manually processed by pu-pe staff to avoid cheating with invalid photos.


The company has been collecting over 10 million fashion item photos with adding 30,000 every day. That would be great marketing data as many of those photos are tagged by users with brand names already, and also known who owned it and who else similar users like it.
With the ribbons, you may purchase items at virtual shops, buy/exchange at virtual flea market. There are even a price variation tracking fan site to know appropriate ribbons for new/unknown items.
Every day, users can take a snapshot of their avatar's fashion. You can see your friend's (avatars') fashion. You can also apply to contests for more ribbons!
I heard about Pu-Pe reputation from some female bloggers and had thought this must be an interesting service which will work worldwide. Then, when Christine Yang, Chili Seed visited Tokyo, she named Pu-Pe specifically she would like to visit, by knowing some enthusiastic users in Taiwan. Thank you Christine, also thanks to Naoko Tsubaki [J], COO of Cybozu.net who arranged our interview for Pu-Pe CEO Kamiyo Morinaga.
See Also:
Pu-pe Girl release : number of users exceeded 300,000 (2009-03-27)

English Poupeegirl community on Livejournal
Poupeegirl FAQ
BBWatch interview to CEO Morinaga and Internet Watch CEO interview [J]
(proofread by Sean O'Hagan)
The following two tabs change content below.