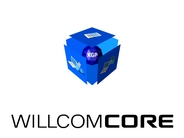 Japan's only PHS operator Willcom announced today it would start trial of new high-speed mobile data service next week, which is called XGP and enables logically 20Mbps Internet access not only in downstream but also in upstream. Starting on April 27th, the trial will be in operation until the end of coming September, and the service will be available in the area surrounded by Yamanote Loop Line[J] of Tokyo as well as several cities in the country.
Willcom lends 500 sets of XGP-enabled PC card to application development partners (described below) for free, and encourages them to develop innovative applications and services.
Digital Signage Advertising (in Kanagawa):
JCB (credit card company), Asatsu DK (ad agency) and NKB[J] (transit-ad agency) jointly develop a new type of digital signage device, accepting "touch-and-go" by passer-by's wallet cellphone and requiring no data cable.
Hand-carry device for Live TV Broadcasting (in Tokyo):
Fuji-TV plans the trial to build up a network for gathering news source pictures in HD quality, and XGP's specification of high-speed upstream allows it without broadcast van nor microwave truck.
Building up the network for railway operations (in Osaka):
Hanshin Railway and its two subsidiaries of railway-related system integrators use XGP for carrying images and data from rail-side CCTV cameras and remote sensors.
Installing digital signage devices on streetcars (in Hiroshima)
The city's authority on promoting ICT plans to install digital signage devices on chassis of streetcars running in the city. Willcom's XGP service carries image data for the devices.
Solving digital divide issues (in Yamagata)
The prefectural government uses the new technology in order to encourage the equalization of education opportunity in the rural areas where fiber optic has been not yet installed.
See Also:

The following two tabs change content below.
Latest posts by Masaru IKEDA (see all)