As you might hear from the news, the Japanese pop star Tsuyoshi Kusanagi(草彅剛, a.k.a. 초난 강 or Chonan Gang in South Korea), a member of popular group SMAP[J], was arrested Thursday for public indecency after being found drunk and naked at a park near Roppongi, Tokyo.
On the popular video sharing site Nico Nico Douga[J], some curious onlooking videocast enthusiasts brought live pictures shooting TV crews and showbiz reporters who were at the crime scene for covering the story, and the others showed live images of the police building where Tsuyoshi was detained inside for an investigator's examination.
Japanese government has used him as a promoter for digital terrestrial TV broadcasting (a.k.a DTV in the U.S.) which replaces analog broadcasting in 2011. They are afraid if his arrest may dampen the widespread use of digital TV sets in Japanese households, which may force them to postpone the transition deadline of Japanese TV industry's road-map.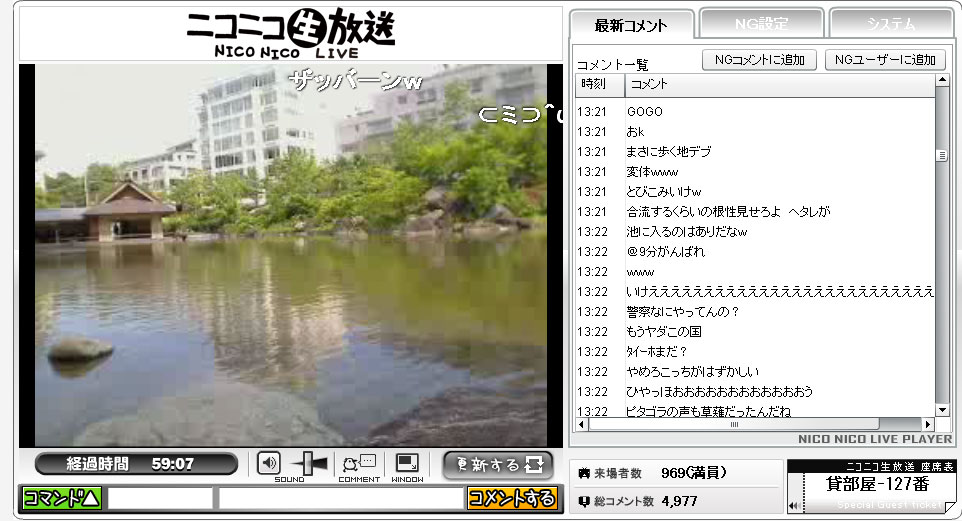 A screen-shot above was quoted from Nico Nico Live[J], a livecast category on Nico Nico Douga.
This livecast was performed by an onlooking guy in Thursday's lunch break, he mimicked Tsuyoshi, took off his clothes and entered a pond in the park where the pop star had been found. An audience watching it expressed pros and cons while they ate lunch at their offices. The park is located next to Tokyo Midtown shopping complex, which was built a few years ago at the ex-site of Japanese Defence Ministry's Headquarters.
See Also:

The following two tabs change content below.
Latest posts by Masaru IKEDA (see all)