Yahoo Japan[J] is planning to release its new underground mapping service on Thursday, which shows the details of underground shopping malls in 49 locations nationwide. Yahoo Japan's map service[J] gets approximately 700 million page-views a month, and the new feature is expected to further increase that number.
Similar to Google Maps Street View, by clicking on the  "Underground Mall" button which appears at the corner of Yahoo Japan Maps only when available, you can see the town's underground layer and read the name of each shop in the mall.
Restaurants and retail shops are represented by different colors, restrooms and escalators are denoted by appropriate symbols, and each gateway to an underground mall is marked with a specific number.
Yahoo Japan expects the new feature to be helpful for and heavily used by Japanese users, because the country has so many highly developed underground shopping malls, where people prefer to walk through to avoid the rain.
In order to make its services more advanced and attractive, Google is trying to give its Street View service much wider "horizontal" coverage by including previously-excluded narrow streets nationwide (in accordance with the company's global standards), which has been criticized as infringing on the privacy of residents (see here for example). On the other hand, Yahoo Japan is doing this "vertically", and the new feature is being introduced as a result of carefully considering Japan's local characteristic that each city has many underground shopping malls and many city people walk through them every day.
(via 47News[J] by Press Net Japan, a Kyodo News Service Company)
Yahoo Japan Map's new feature is not unveiled as of the writing of this story, but the example below can be considered a prototype. It was pulled from Yahoo Japan's test site called "ALPSLAB[J]" and was jointly developed with experts who previously worked for Alps Mapping. (Alps Mapping was famous for its geographic business expertise, but it filed for bankruptcy protection from its creditors under the Civil Rehabilitation Law, then was acquired by Yahoo Japan.)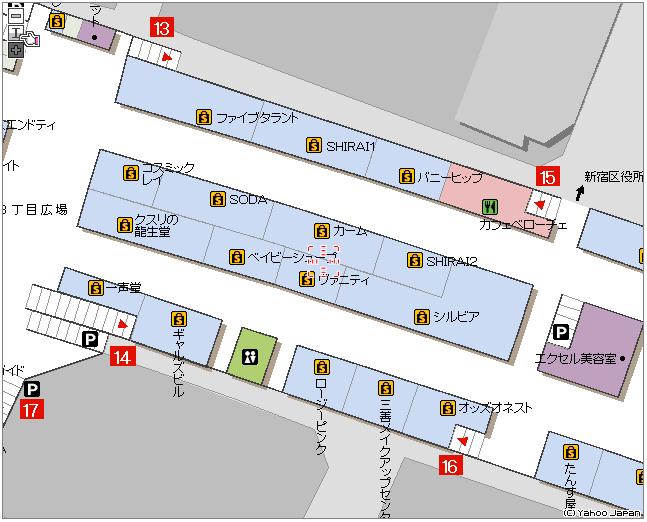 The map shown below is the ordinary type for the same location (Shinjuku Subnade[English, Chinese and Korean]). Red lines show the shape of the underground layer.



(Proofread by: Sean O'Hagan)


The following two tabs change content below.
Latest posts by Masaru IKEDA (see all)