Shoeisha made a 2011's 15th issue of Weekly Shonen Jump, the most popular Japanese manga(comic) magazine which is sold 3 million copies every week, online for free on Yahoo! Japan [J] and Nico Nico Seiga [J]. "Seiga" means static image, opposite to "douga"(movie). Nico Nico Seiga is a service to share images run by Nico Nico Douga company Dwango.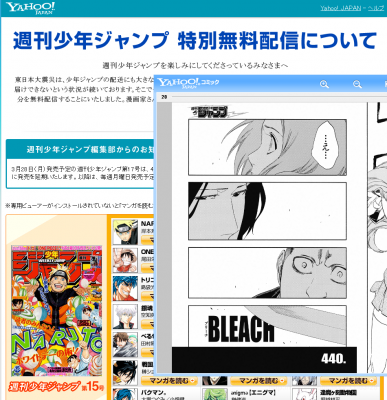 The 15th issue was sold on March 14th, 3 days after the Eastern Japan earthquake/tsunami. The editorial team announced, "The earthquake affected delivery of the issue, and some people still could not get and read. As an emergency plan, we decide to publish it online".
21 comics including "Naruto", "Bleach" and "One Peace" on the issue will be available online until April 27th.
The rival comic magazine company Kodansha also announced [J] that they will release some issues of 6 manga magazines(Weekly Shonen Magazine, Weekly Young Magazine, Comic Morning, Comic Evening, Kiss, Be-Love) on their website.
Despite huge success on cellphone comic, paper comic and magazines are still huge in Japan culture. Those publishers have been always sensitive on manga digitization, by fearing piracy. The disaster urged them to take this experiment, which may make another move in near future.
The following two tabs change content below.