It is understandable to make your favorite web services drawn as characters, but how about internet viruses?


A Japanese publisher Sansai Books started selling a security book "Kawaii Security", which enlightens you computer virus history since 1980's, with over 30 infamous viruses anthropomorphized in cute anime-style characters. Which virus being personified in the book has not been disclosed yet, but I guess good-old pre-Windows Morris Worm, Code Red and Nimda should be in them, Japanese virus Yamada and Kintama as well.
For example, MS-Word macro based Mellisa virus since 1999 is personified like this,


The character doing poll-dance seems from the truth that the virus creator (a male American who was arrested) named this virus after a strip dancer he knew.
Some other virus girls icons, Pakistan Brain, Christmas, Klez, Netsky, Code Red, Nimda, Blaster, Sasser, Gambler, etc.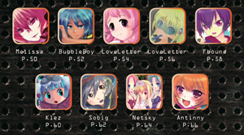 Four anti-security applications are also personified under the authorization of the software vendors. Here is McAfee girl,


And F-Secure from Finland,


It has 5 stories of original security comics,


and CD-ROM of anti-virus trial software Panda Internet Security 2011, too.
The book will be available on Amazon Japan and bookstores in Japan on March 14th.


Kawaii Security
via Akiba Keizai Shimbun
See Also:
Asiajin » Moedroid – Android Apps Review Site Only For "Moe" Apps
Asiajin » English Study Comics Paid Homage To U.S. Marines
Asiajin » Bijo Linux – Photo Site Where Girls Are Displaying Linux Commands
The following two tabs change content below.