One of Silicon Valley's hottest startups, Q&A site Quora (of which I am a big fan), now has a Japanese clone of sorts.
Dubbed Uncer (short for "uncertain"), the site is probably Quora's first clone in Asia (as Zhihu, the inevitable Chinese counterpart, still is in closed beta).
Uncer is apparently run by just two persons who are preferring to stay anonymous at this point and are not providing a lot of background on the service either. But if the first post of the "official Uncer blog" is any indication, work for a person called m2o and another one who calls himself ryo started around December last year.
Screens (click to enlarge):


Design and function-wise, Uncer is nowhere as slick as Quora (meaning it's not really a clone but a watered down implementation of the basic idea).
In the screenshot below, you can see our editor Akky asking the Uncer community what the main difference is between Uncer and Quora. One user replies that on Quora, you can edit posts by other people, something that's not possible on the Japanese counterpart: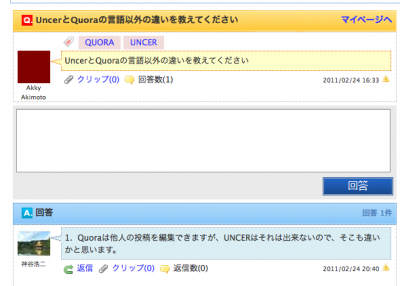 Needless to say, Uncer is available only in Japanese. This makes sense, as it's being offered by Japanese people for Japanese people and because Quora currently doesn't allow members to use any languages other than English on the site.
The following two tabs change content below.
Latest posts by Serkan Toto (see all)