Japanese sports newspaper Nikkan Sports reported [J] on December 4th, Saturday morning that Tokyo Yakult Swallows, one of 12 professional baseball team in Japan's top league Nippon Professional Baseball(NPB), is planning to sell itself to web service company CyberAgent (Asiajin), which runs Ameba blog, Pigu(Japan)/Pico(US), etc.


Yakult, a beverage company who owns and has been managing the Swallows for 41 years, issued a denial statement [J] that they do not think sell-out with any companies on the same day. CyberAgent CEO Susumu Fujita also denied by saying "There were no contact from Yakult, so we never planned.", also telling "We must admit that our current annual operating profits, around 10 billion yen, is too small to have a NPB baseball team. It is too early." with showing interest to the idea itself.
Fujita himself posted a photo of the Nikkan Sports reporting the rumor over TwitterTwitter.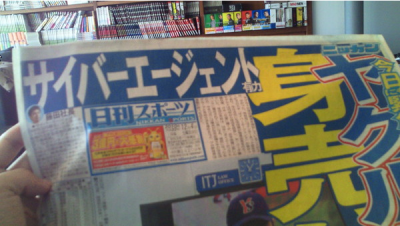 No other mainstream media followed this Nikkan Sport's "scoop", so both saying there were no talk is likely to be truth.
How much having baseball team means in Japan
Historically, 12 owner seats of NPB are thought as one of the most effective promotion method for Japanese companies. In NPB, different from U.S. major league and many other professional sports leagues like football, basketball, hockey, teams can have company or brand name, such like Yakult Swallows. And that name are used everywhere when baseball game results are reported, on newspaper and TV. Even on public broadcasting NHK, who strictly avoid to tell companies name in their programs, call the team names (= company names) every day on each news. FYI, Japan Football Association, which formed professional league later, learned from West so the soccer teams are not allowed to have company names. As baseball is the most popular sports, having a team has massive publicity power. Imagine if St. Louis Cardinals were called Budweiser Cardinals, how could that have changed the sports and advertising business?
Owners of the teams have been changing, reflects each era's major industry, as keeping a team requires a lot of money and huge demand on publicity to all Japanese. After the war, majority of the owner companies were railway companies and newspaper companies. Later in 60's-70's, more food companies bought teams. Around 90's, a leasing company and a super market chain store joined.
It is in 2005 when some IT companies got on the bandwagon. Softbank purchased Hawks. Rakuten and Livedoor competed, Rakuten won and owned Golden Eagles. Those stories were reported also in English at that time. (Business Week) I could say that it really spread Rakuten's name to the people who do not use the web much.
Although this Nikkan Sports' overeager "schoop" is not supposed to be true by many readers, and it seems there were no deep discussion Yakult and CyberAgent, it is unknown that there was not a speck of talk, nor attempt to contact from either side.
CyberAgent is fairly big among Japanese web companies (see Netindex ranking to see their market value, it is bigger than Mixi). If web/software companies will lead the baseball owner business in near future, like 1/3 teams were owned by railway companies in 1950's, they are one possible player.
The following two tabs change content below.