Japanese company KLab Inc. [J] 's social game "Koi-Shite-Kyaba-jyo(恋してキャバ嬢)" makes 5M users. Press release [J]
Koi-Shite-Kyaba-jyo is a Japanese hostess club(Kyabakura) simulation game popular with women. Now, you can play this on GREE(mobile), mixi(mobile), MobageTown(mobile) and Yahoo!Mobage(PC) [J].


*My cell phone is iPhone4, so I can't play Japanese mobile social games. These are screenshot of Yahoo!Mobage.
The foreword of the game. You are scouted as a hostess by club owner.


Afterwards, you play the tutorial.


You have to serve flexibly appropriate to the guest and the occasion


rich university student


Fashion model


Musician
You date with them at times.


You can record memories of the date with them in the album.


However, there are also visitors who are not so handsome.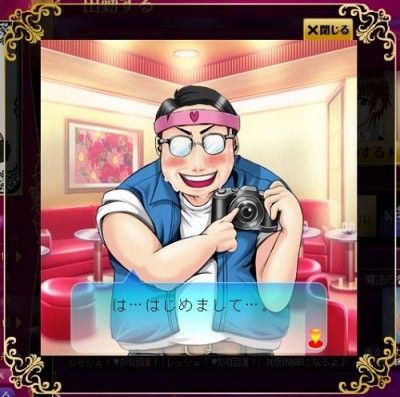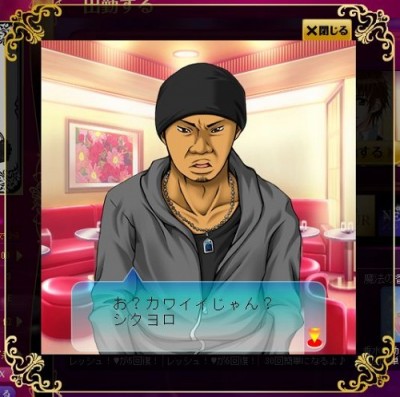 This game's system resembles a general Japanese mobile fishing social game very well.


You become a hostess instead of  becoming a sportfisherman.  And you catch a handsome & rich men instead of  catch big fish. Like fishing may result with "small fish" failure, there are unworthy customers. Fashion items and make-up match with good fishing rod and bait.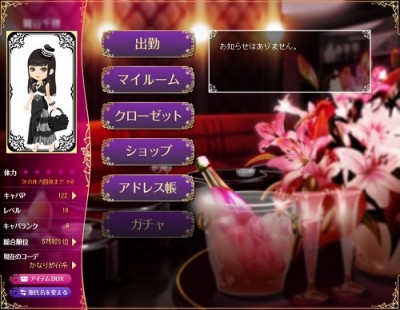 You can dress up by spending virtual currency, which you earn by serving work.  You come to be able to catch a handsomer, richer men by using a gorgeous fashion items.
You may assist friends serving, you will be assisted by friends, too. And help the friend's serving. You can earn more virtual currencies thereby.
According a Japanese IT news site ITmedia [J], 73% of this game's users are 20 years old to 34 years old women. They are enjoying the avatar customization more than virtual love with handsome visitors. Although the virtual goods in the game are about 10-300 yen (0.12-3.7
USD), many purchase them on mobile willingly.
You can watch the screenshots of mobile version and development team's photo on ITmedia [J].
The following two tabs change content below.
Latest posts by Chiho Komoriya (see all)