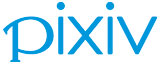 Japanese "social illustration site" Pixiv continues to amaze. The site, which lets users present self-made drawings to other users and offers a number of basic social networking functionalities, now counts a whopping 1.5 million members [JP]. Not bad for a completely domestic site that's only available in Japanese (although  some foreigners exhibit their works on it as well).
Here's how a typical page looks like:


Let's crunch some numbers: The service was established in September 2007. Pixiv's user base stood at 100,000 in March 2008. In June 2009, the site had 1 million members, meaning it added half a million people in about six months. It took 838 days to go from zero to 1.5 million members.
More impressive stats:
Pixiv now racks up 1 billion page views per month (up from 720 million monthly half a year ago). Members post 18,000 drawings per day.
There are more social drawing services in Japan, but no other site can stack up to Pixiv in popularity.
The eponymous, Tokyo-based company has 20 employees.  If you want to know more, Wikipedia offers a great English entry on Pixiv.
The following two tabs change content below.
Latest posts by Serkan Toto (see all)