Dentsu Inc., Japan's largest advertising agency, announced that they started experimental coupon platform iButterfly with free iPhone application.
The application "iButterfly – Coupon Entertainment" can be downloaded for free until the end of March 2010 (requires iPhone 3GS).


On the mobile application, user can look through the iPhone app to the town and find butterfly flying around. By shaking iPhone like using butterfly net, user catches the virtual butterfly carries coupons and contents related to the location.
During the experimental period, three companies or shop group provide the butterflies.
Tokyo Music Map Group – shops offering good back ground music provides discount coupon
Yamada Denki – Japan's biggest electric store chain will offer coupon at its Ikebukuro branch
Tokyo Gas – regional gas provider will offer a coupon for free novelty at three showrooms
Chou (butterfly in Japanese) is used here in double meaning, with another same sound "Chou" which means "collection book".
Dentsu is planning to add more "Chou" such like "Nationwide local mascot characters collection book", "All Yamanote Line stations collection", "Today's Fortunetelling", "iPhone App recommendation", etc.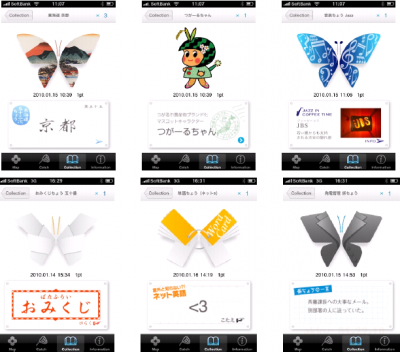 [Update] The movie how it is played,

The following two tabs change content below.