On Tuesday, June 30th, two people from Twitter USA had an user meeting [J] with 200 Japanese users at Omotesando.

signboard
"t" and "tsu" (the first letter of "twitter" in Japanese) hat receptionists welcomed Japanese twitter fans.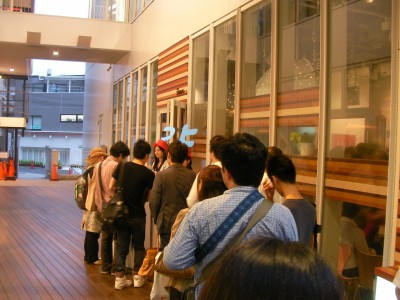 Newly recruited Japan Country Manager Yukari Matsuzawa (@yukarim) and Head of Mobile Kevin Thau (@kevinthau) came down from San Francisco.


With @f-shin, who runs the most popular cellphone twitter front end service movatwitter, which must be thought as an important third party app for Japanese users, is also promoted on the Twitter Japan's top page sidebar frequently, I asked Kevin if Twitter is thinking an official mobile site/app for Japanese cellphone. His answer is no. He explained to us that device specific sites/apps are expected to be made by third party by utilizing API, instead of Twitter themselves. That is somewhat disappointing for me because in Japan, many sites have more traffic on mobile than PC and there are a lot of things you can add by making cellphone specific apps and/or career official menu.
By the way, movatwitter obviously includes the trademark "twitter" in its service and domain, recent "tweet" trademark news reminds me.
Also, some users questioned to Yukari if the current search function which is simply broken and not working with Japanese language would be fixed in near future.
Current Twitter search takes keywords by using white space as a splitter, which makes no sense with languages like Japanese (and Chinese, Korean, etc. I guess). So the search results on twitter often becomes blank. Yukari said that they are working on the issue and it would be fixed soon in this summer by introducing tokenizer algorithm for Japanese.

Joi Ito's speech as a board of Digital Garage, collaborating on Twitter Japan with Twitter
See Also:
Popular blogger @kengo's report [J] has more photos.
The following two tabs change content below.