There is an impressive number of search engines specializing in blogs. Internationally speaking, Technorati and Google's blog search are the most prominent examples. There is also a localized Japanese version of Technorati.
Kizasi (pronounced "kizashi") is a Japanese blog search service which was started in January last year by kizasi Company, Inc.


This is kizasi's translated top page (click to enlarge – accessed January 8th, 2008, Japanese time):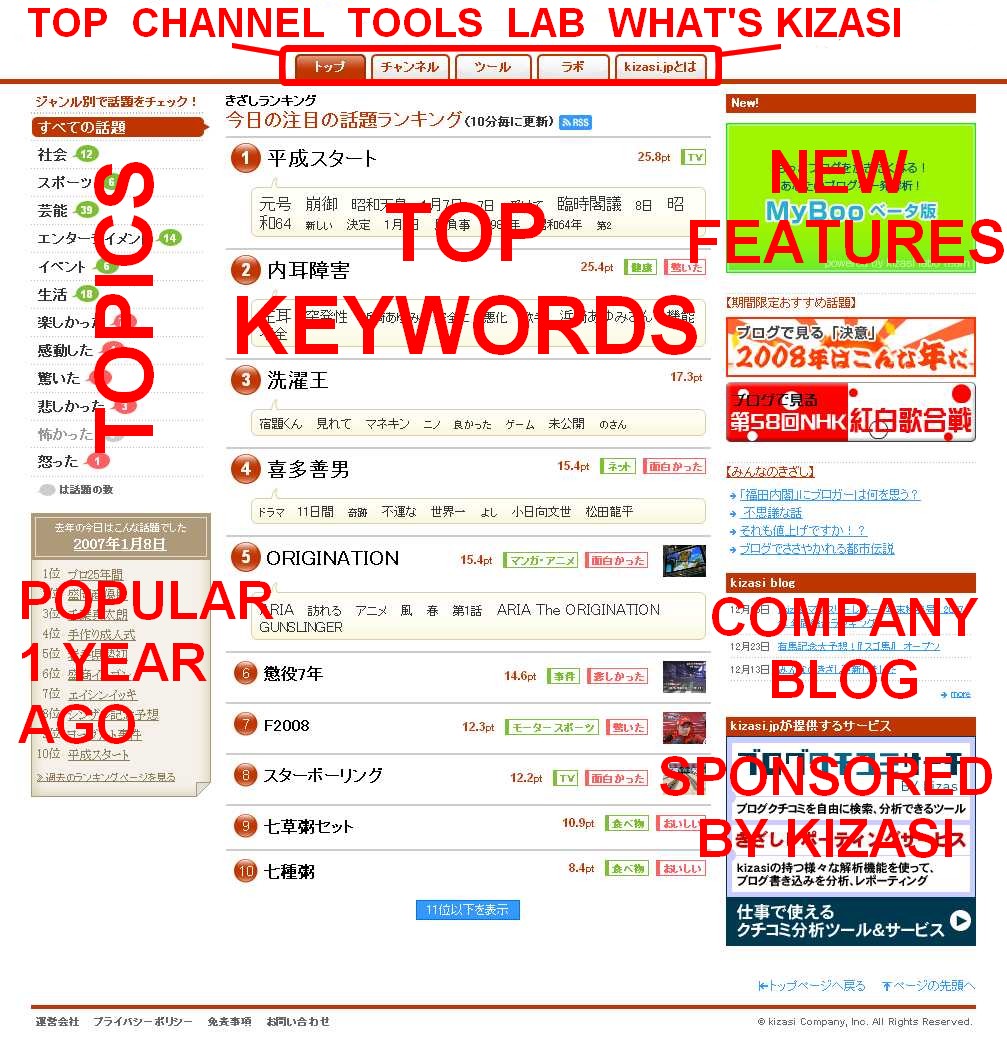 Under "Tools" on the top row you can find a kizashi widget, information about the kizasi API, RSS etc. "Lab"means applications by kizasi which are still in beta-phase.
The container on the left features the following topics:
All, society, sports, stars, entertainment, life, fun, moving/impressive news, surprising news, sad news, scary news and hateful news.
Kizasi crawls Japanese blog texts for words and analyzes connotations and usage patterns in order to point out structures and frequently used terms. As of today, kizasi takes into account blogs from 5,816,944 people who are ressponsible for a whopping 139,229,585 entries.
The service ranks key terms by genre and also analyzes pictures related to the words in question. Kizasi refreshes rankings every 10 minutes.
After clicking the current No. 7 search term which is "F2008", the following page appears (click to enlarge):


The frequency of the word "F2008" appearing in Japanese blog texts over the past year is shown as a graph on the top right, along with a tag cloud on the left which corresponds to the term. Kizasi also previews the newest blog entries containing the word "F2008" and retrieves videos from Youtube related to the search term.
The use of a time scale and frequency of site updates distinguishes kizasi from its competitors. Current consumer tastes, general trends and the buzz in the Japanese blogosphere can be spotted in a structered way and at an early stage.
Kizasi is mainly owned by the CAC group (88%). Yahoo Japan bought a 5% stake in kizai in summer 2007.
Kizasi's successful penetration especially in the Japanese mass media was followed by Blogwatcher, Inc., launched by Recruit and Titech. The company established a blog analysis service called Shooti in July 2007. Wadaino is another domestic player in the Japanese blog search market mimicking kizasi's ranking concept but based on different categories.
The following two tabs change content below.
Latest posts by Serkan Toto (see all)