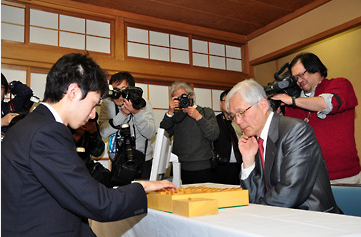 The first top professional player vs computer Shogi(Wikipedia) match Dennousen (Battle of Cyber-King) was held at Shogi Kaikan (Japan Shogi Association building), Tokyo January 14, 2012.
Kunio Yonenaga, an ex grand-master (in 1993) and a chairman of Japan Shogi Association, who retired in 2003, played against a computer program "Bonkura-s". Although he is a retired pro, it is the first time computer defeats top-pro.
In 2010, an women player belongs to the female-only pro-league lost a game against other computer program Akara 2010. The second Dennousen is being planned this year with 5 active pro players.
Japanese chess has the same origin as Chinese and Western chess, Chaturanga from India, and same as in computer chess in West, it has been popular research issue to make a strong computer program. In Western chess case, IBM Deep Blue first beat the world champion in 1996. However, Shogi having the rule of reusing captured pieces makes much more complexity on computing and so far the strength of the top computer-shogi programs were thought as top amateur level.
Japanese Shogi Association holds over 100 pro players. Most major newspaper have and sponsor their own leagues, and has Shogi news every day. The Top player is said to earn about 1.3 million dollars in a year.
Appropriate to the computer match, one of the sponsors of this Dennousen title is Dwango, who runs Japan's YouTube rival Nico Nico Douga. Nico Nico Live broadcast [J] the whole game for 10 hours. According to Kunio Yonenaga's Twitter, over a million Nico Nico Douga users watched the game, and 341,000 of them were paid subscribers.
負けました。昨日の対コンピュータは負け。ニコニコ動画は有料会員341,000人が観戦。無料会員を含めると100万人以上とか。この番組は良かったという人が98.9%でした。みなさん応援有難うございました。

— 米長邦雄 (@yonenagakunio) January 15, 2012
See Also:
If you are interested in play Shogi and have an Android handset, Android Shogi (you need the data app as well) is free and quite good. If that does not compete you, PC apps having the same Bonanza engine are stronger.
After the match interview on Kunio Yonenaga [J]
Nico Nico News [J]
asahi [J]
Sankei Sports [J]
The following two tabs change content below.