LinkThink released a new social networking service "Web Kare – wonderful boys and lovely maiden story" featuring dating simulation game targetting female on 10th September, and gained over 10,000 users registered only in 5 days.
On the service, you will spend a virtual school life with 4 young boys, while communicating other users.


Like as other social networking services, you have "Purofu" (my profile), "Mini-Rogu" (microblog), "Oekaki" (Drawing bbs), direct message. As an original feature, it provides "Pro-Peta", user created icons which shows paster's attributes and interests, to show others your liking anime/cereblities/fashion/etc.,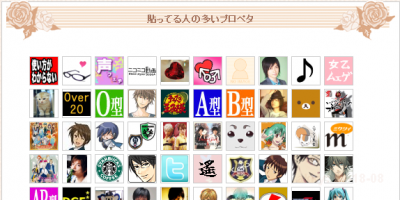 On the left side, there is a box showing a boy you chose from 4 at the registration. By clicking it, you will be taking to a scene in school life and talked by those boys characters.


It is explained that the system initially has 150 audio phrases for each boy recorded by voice actors. Conversation between you and your future boyfriends can be recorded on your "Album" page.


Although not as many as virtual dating games for boys, but there have been games for ladies on PC and home consoles for decade. Most of those games are not exported outside Japan, so I am unsure if the demand is only in Japan or not. This service may spot and satisfy those Japanese girls gamers who wants Web2.0-ish virtual dating.
LinkThink is know by thier pet widgets ("blog-parts" in Japanese) service BlogPet, which is distributed to 400,000 users sites.
The producer of Web-Kare is a well known independent web security researcher blogger Hamachiya2 (see his work).
See Also:
LinkThink – Press Release [J]
News on Venture View [J]
Hamachi-chan's security learning course – gihyo.jp [J]
Hamachiya2 interview – Ascii.jp [J]
The following two tabs change content below.